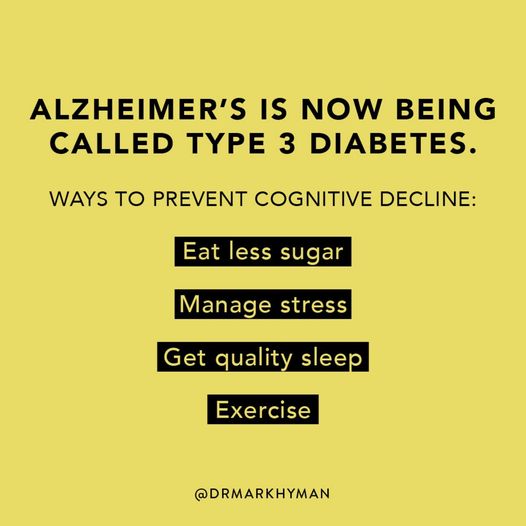 Sharing an interesting post about
#alzheimers
:
・・・
"The truth is, dementia is a very big problem that's becoming bigger every day.
What's the link between Alzheimer's and diabetes?
Well, new research shows insulin resistance, or what I call diabesity (from eating too many carbs and sugar and not enough fat) is one of the major factors that starts the brain-damage cascade, which robs the memory of over half the people in their 80s, leading to a diagnosis of Alzheimer's disease.
Here's the bad news/good news.
Eating sugar and refined carbs can cause pre-dementia and dementia. But cutting out the sugar and refined carbs and adding lots of fat can prevent, and even reverse, pre-dementia and early dementia. Sugar causes pre-diabetes and diabetes, which often leads to significant memory loss.
Chronic stress takes a toll on your body and brain. Stress shrinks the hippocampus, the memory center of the brain. So, find your pause button every day and make time for some stress relief. Relaxation isn't a luxury if you want to prevent or reverse dementia. Whether that involves deep breathing, meditation, or yoga, find something that helps you calm down.
Lack of sleep can cause impaired brain function, leading to CRAFT syndrome, which stands for "can't remember a _____ thing." Studies show poor sleep becomes a risk factor for cognitive decline and Alzheimer's disease. Aim for at least 8 hours of quality sleep every night.
⁣⁣⁣
We now know that physical activity can prevent and even slow down the progression of cognitive decline and brain diseases like dementia. Even a 30-minute walk can help. More active readers might want to incorporate high-intensity interval training or weight lifting."